Testimonials
March 1, 2023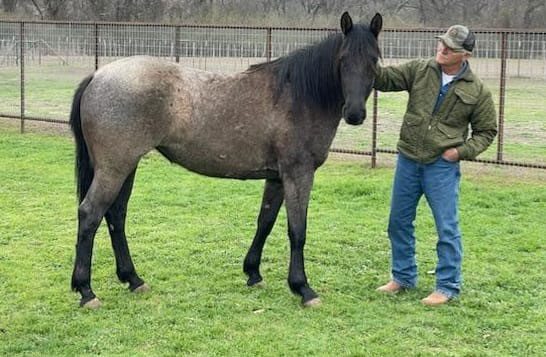 This big 22 month old MA filly arrived at her new home with repeat buyer Marvin P. of Texas. Thank you Marvin and son Josh, for coming back to get another baby. The first colt they purchased, back in 2021, is a full brother to this filly. They were so impressed with him and already roping off him as a 2 year old. He said that he is right at 16 hands.
Each year we put our smallest stud, 14.3h Tip Top Valentine (x Leo Hancock Hayes), in with a 15h tank of a mare, Trixie Leo Hancock (L.H.H. granddaughter) and they consistently produce a bigger baby than either of them.
---
March 1, 2023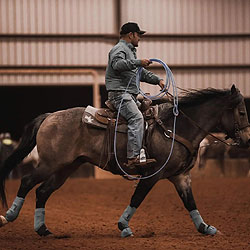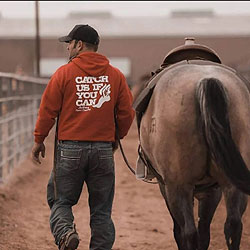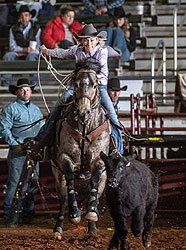 2018 Buckskin Roan Stallion, Drifters Seeker MA. Purchased by Larry A. of Texas back in 2019. His trainer, Jared G., has had him since he was a yearling and shared these photos and updates with us last night:
"He is still a stud mainly because I love his mind and how well behaved he is. I can take him to a roping with a hundred mares, and no one would know he was a stud. Here is my 15 yr old daughter breakaway roping at the Region 3 High School Rodeo in Graham. I have a couple of foals out of him already. Great horse."
Thank you so much for taking the time to catch us up on this beautiful, young stallion's progress.
---
11-21-2022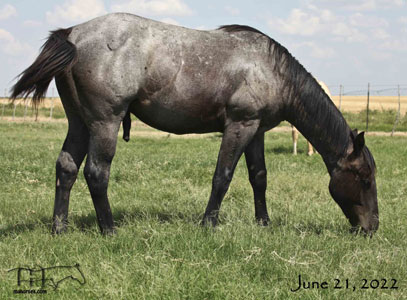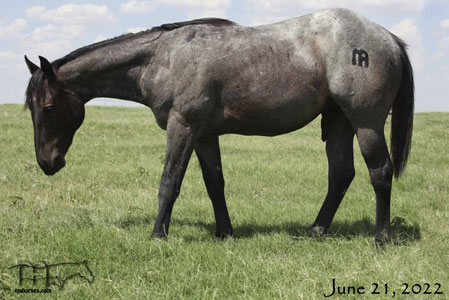 Just wanted to send an email to let you know how happy I am with Salty!
I've bought and raised several horses over the last 35 years. Salty is incredible!!! Not just his looks but his mind as well. Going from a young stallion that had not been handled Saturday, to a young stallion, that took maybe 20 minutes to halter train on Monday morning, is amazing!!! Not only was he the easiest horse to halter train I've ever dealt with, he also hooked up with me within 2 minutes in the round pen and acts like a horse should.
I drove 8 hours to your ranch. I saw some incredible young horses. The decision wasn't easy. I feel like I could have left with anyone of several young horses and am sure I would have been happy with each and everyone. I will definitely be back!!!
Salty is going to be a pleasure to train. He is truly going to be a horse that I will be proud to own! Gonna be a long 4 years waiting to see his babies, but we are going to ride him for a few years before breeding him. We like a good using horse. We train fillies as well before breeding them.
Thanks for breeding and raising horses of this quality!
Thanks So Much!!!
Todd R. of Arkansas
---
September 2021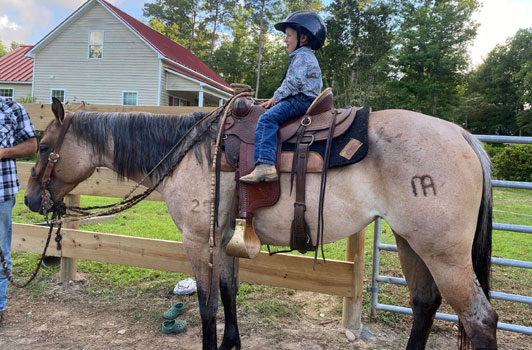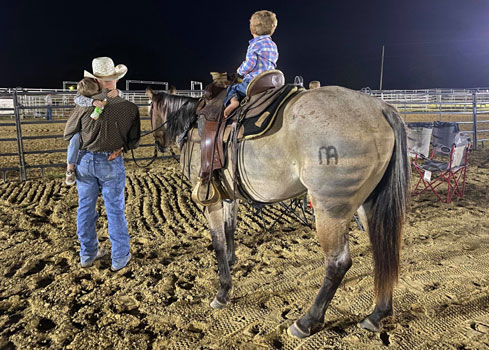 Hey there, I own Redbone Saucy MA. She is such a blessing and I wanted to share some photos. She is so kind and an old soul. Thank you for breeding great minded horses. My son is not even 2 years old and she is so solid with my kids, it blows me away.
I'm also totally blown away by how well she stops. She will lay down stops all day, 10 ft. We are still working on roping and overall ranch reining stuff. She's a beautiful mover and is 16.1 hands. She's grown a ton since we got her and the kids are 4 and almost 2 years old.
She's really sweet and nothing really bothers her. She's great in new places and performs the same way at new places. She is leading our show series in ranch green horse and she won me 3rd in the No Loping Roping Jackpot 2 weekends ago and I'm a green roper. Oh and she won the ranch roping and ranch cutting with my husband back in March and she did all the work lol. We are very blessed to have her. A lot of people are surprised when we say she's a Hancock. My reining mare bucked, in warm up, with my husband at the roping (she IS a saucy mare LOL) but everyone was saying, "Your Hancock horse bucked", and I said, "No, that is the reining bred that's bucking, I'm on the Hancock." LOL
I will keep you updated on the future and thank you for letting me brag about her.
~ Catherine D.
---



July 30, 2021

Buyer Pamela M. of New Hampshire just shared this.

Her (just turned 2 yr old) colt, Gooseberry Moon MA, went to his first show, to get some exposure, this past weekend and won 1st in his class and Reserve in the Championship in all ages. They have only had him 7 months and he was completely untouched. She said he is such a good boy, so sweet, so smart, he's fantastic and people just rave about him and his disposition. They can hardly wait to do all of the "ranch stuff" with him.

We are so happy to hear this and so happy for y'all and young "Goose". Congratulations!
---
January 2021

As a return customer, (5 horses) I can assure you the bloodlines and breeding program MA Quarter Horses has developed over the years is very successful. As a retired professional trainer, I personally am EXTREMELY picky about what horses I buy. I will say that all the horses I've purchased from these folks have been exceptional, mentally and physically. Their focus is on breeding, not training or using. And from what I have seen so far, they've done a fantastic job.

Ron D. - of Texas






---
May 8, 2020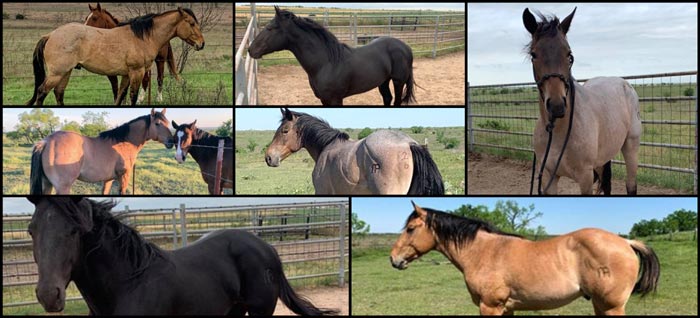 Good morning, I just wanted to give y'all an update on my MA horses.
Salty Drifter's first foal is due in about 4 weeks, I've dreamed about this cross since I bought Salty! The mare is 25% BV 15h and 1300lbs! They will have a tank of a baby!!
Shiner and Salt MA and Plenty A Gunsmoke MA will be getting their first 30 days riding this month and they're just so smart and easy. That big filly follows me around like a giant puppy she is just so sweet!
It is so dang hard to get pictures when they just follow your every step, haha. Not complaining though, they are just the coolest colts.
~Taylor B. of Texas
---
May 4, 2020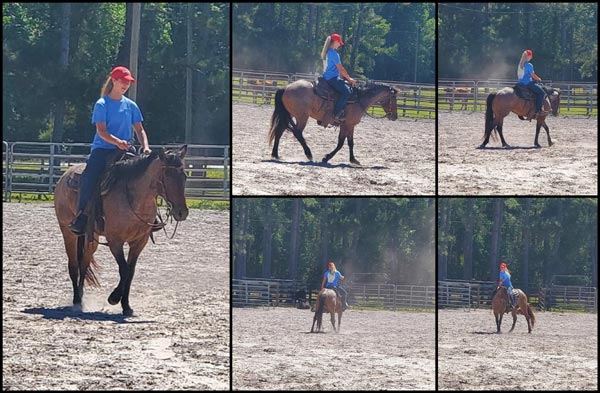 2016 Salty Mo Limited MA, "Drama" being ridden by a former world champion reiner in the teen division, current Captain of the equestrian team at the University of Georgia. She loved her! Said she loves her build, how she naturally drops her head, and how smooth her gaits are. Thought I would share.
-Deanna S. of Florida
---
April 6, 2020
Buyer, Karl K. of Arizona, just sent us an update on his huge, beautiful girl that he got from us last year. She is by Plenty Blue Day MA and WYO One Sock.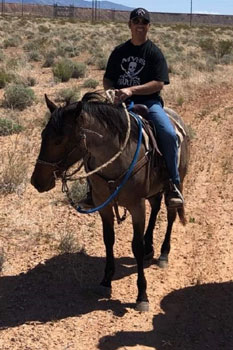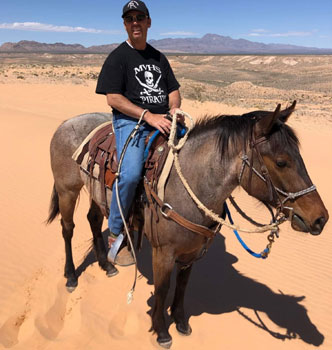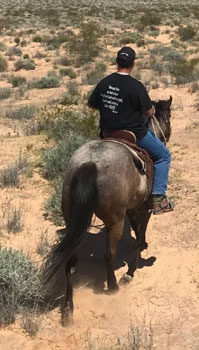 "Just some pics of our first ride out in the desert under saddle. This filly has been awesome. Next month she turns 2 and I'm sure the way she is going she will be chasing the dummy in six months."
---
April 2020
This filly, a coming 2 year old that sold yesterday afternoon to Joel S. and his son Jayden (who is in college and will be training her) they are from Texas. "Blackie" was completely untouched, had never even seen a halter. Jayden sent me this video after 1 p.m. today. Jayden called and said he got on and rode her today as well.
---
Received this update from Alice G. of Texas and her BIG, untouched 2 year old filly, "Delilah", Flashy Dividends MA that she got from us on April 7th. This is 9 days after arriving at her new home and standing there like an old pro -

"Hey!
I haven't sent any updates, but Delilah got her feet trimmed today and she did great! I was able to touch her and get a halter on her the first day she arrived. She's been super easy to work with and very sweet!"

Thank you for the update, Alice! We are so glad you are loving your new girl.
---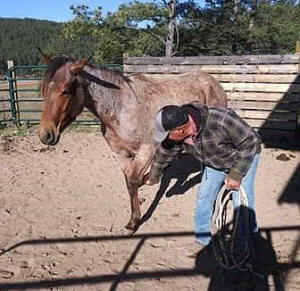 April 13, 2020-
2018 untouched bay roan filly
"Just wanted to give you an update on "Storm". That's the name we gave her. She got her first taste of snow! We got 6 inches last night. We woke up early Sunday morning to work with her and could not believe how easy she is. The first 30 minutes we had already put a halter on her, brushed and picked up her feet. We also had her lunging. By the end of the day she learned to tie and had saddle pads on her. No issues what's so ever. Amazing horse plus my wife loves her color! All of this in the first 30 minutes of working with her.
I will send some pics that my wife got of dad and the horse. We always have bought colts or 2yr old or raised our own and when we start them it has never been as easy or quick learners like this one. She is going to be a good one!"

April 19th, 2020:
"This horse has been amazing in just it's first week of working with her.
Thank you. Just on the temperament of you horses and the way you conduct business as well as the way you treat your customers, you will have my family and I future purchases of horses! I will send pictures of progress."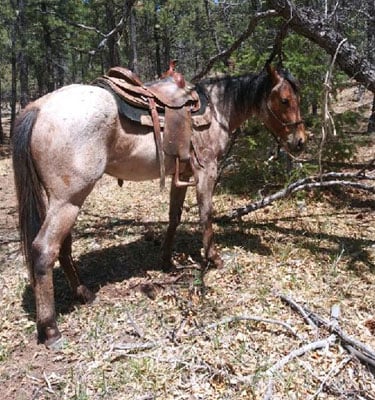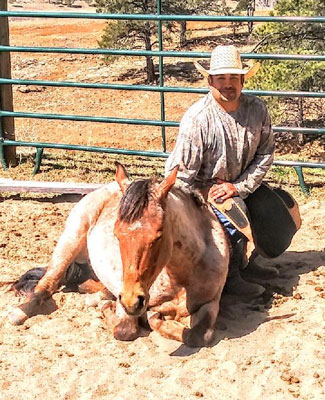 Thanks again!
Mark O. of New Mexico
---
September 11, 2019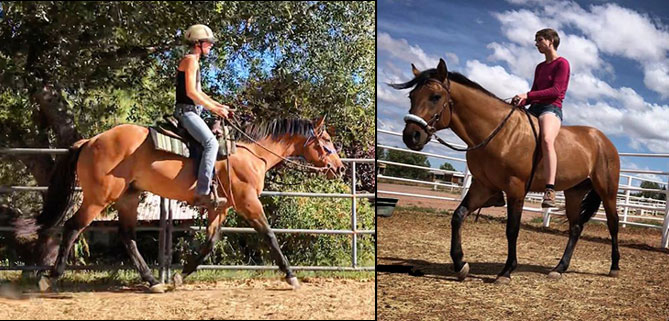 Hey there. Just wanted to give y'all and update on Tukos Drifter MA "Cassidy." He's amazing, he has the most laid back yet willing temperament. He is so smart, learns fast and wants to please! Which is the reason I purchased a horse from your ranch. I did a lot of research on your horses and he did not disappoint! 🙂 I couldn't be happier with him! And he gets noticed everywhere we go for how beautiful and well behaved he is. Thank you for such a wonderful horse.
#Traveling the country with my best boy ♥
#Second ride bareback and bridle-less. He's too easy,
#And he's a lover.

September 23, 2019
Picture one was taken exactly a year ago and the next two are from today. My little man isn't so little anymore....
Angelica B. of Arizona
---
September 6, 2019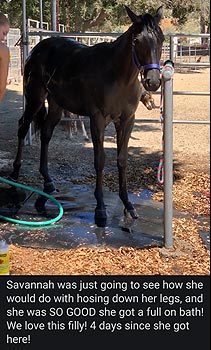 I don't have time right now to write all the wonderful things that I would love to say about Delanie and Mike's horses!! It would probably take me two hours to say all that I want to say... but here's a little bit... First, I have to say that I expected that everything Delanie told me about their horses would not be true- she explained how willing they are and easy they are to work with even though they have never been handled- My daughter has always wanted to get a young horse and train it herself (since she was 5, and now she's 18). I really thought this was a bad idea because I've seen so many rank, young horses! My daughter and I really loved Delanie when we spoke with her on the phone, so we planned a trip to Texas (from CA) so we could go see these horses (that I was sure were going to be nothing like Delanie had described)! We were fortunate enough to meet with Mike, who turned us loose with the fillies (not sure how many of them there were- 60?) in a huge pasture, while we waited for Delanie to arrive. I think we were out with those horses for almost 2 hours! Delanie shows up full of apologies for keeping us waiting- and both Savannah and I were like, "Are you kidding??? This is HEAVEN!!! We LOVE all of your horses!!!" They were the kindest, gentlest horses- and GORGEOUS!!! They were so friendly and followed us around as we walked through the pasture! We kept note of the ones that we might be interested in, as we were unsure of each of their prices! There was this one Blue Roan filly that kept following us everywhere- and that's when we fell in love! When Delanie arrived, I swear ALL of those horses gathered around us- they LOVE her, and you can tell!!! It was the most amazing experience I have ever had with horses- EVER!!! We were fortunate enough that the little filly that we loved was within Savannah's price range (as she had saved her money to buy a horse herself)! So we arranged for her to be hauled to our house a couple weeks later!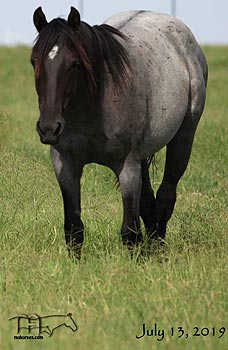 Delanie helped us to find a really nice and gentle hauler who made sure that her first trailer ride was a positive one! When she arrived, Savannah went into the trailer and put a halter on Keaira (that is the name she gave to Poco's Blue Breeze)- Keaira was curious, but had no problem letting Savannah put that halter on. Then we opened the trailer doors, and Keaira very calmly walked out and walked around our arena checking things out- I was so extremely impressed! Within an hour, Savannah was leading her around with a lead rope! The very next day, Savannnah was able to walk her around our property (which is not fenced) with a lead rope on... she had her tied to the hitching post (and she never pulled back or anything)… she untied her and sprayed her with fly spray (she reacted a little, but barely at all)! That night, or maybe it was the next night, Savannah put a saddle pad on her and the small saddle from when she was little (Keaira is only 16 months old- so not old enough to ride- Savannah was just seeing how she would take to a saddle)- and I'm telling you... zero reaction from Keaira- except that she wanted to see what the saddle pad and saddle were when Savannah kept taking them on and off of her! She even cinched the saddle up, and this little filly took it like a champ! I'm sure you can imagine how delighted I was when all of my fears melted away! Delanie was 100% correct about her horses- they are SO WILLING, and SO SWEET, and SUPER CURIOUS! Not spooky at all! These are the best horses ever! I read other people's posts about how they will never get a horse anywhere else, and I'm telling you- I feel exactly the same way! There are so many more stories I could tell, but I have a bunch to do today, so I will end with this... Two days ago Savannah introduced a bridle to Keaira, just to show it to her, and that silly filly grabbed the bit in her mouth! So Savannah just held in up over her head (as it was not sized for her), and just let her play with the bit in her mouth a little- All of this, while she now had her regular saddle on her- and had walked up to the house with her, without even holding her lead rope! If you are like me, and have dealt with dishonest people selling horses (I've met so many liars over the years), do yourself a favor and visit Mike and Delanie and meet their horses! You will be glad you did! And now we have new friends for life! We love them so much!!! I'm sure that everyone who has bought a horse from them will agree with me! Thank you Delanie and Mike! ♥
Debbie and Savannah Ames
of California
---
July 2019r>
"Born & raised on our ranch and sold to Steve M. of Florida. This stallion is now five years old and was ridden by Steve's son, Lane, who is now the 2019 novice amateur Ranch Roping World Champion. Steve bought two trailer loads of horses from us and we are excited to see them excel at so many different disciplines."
---
9-14-2019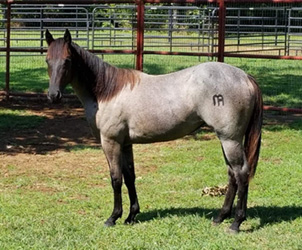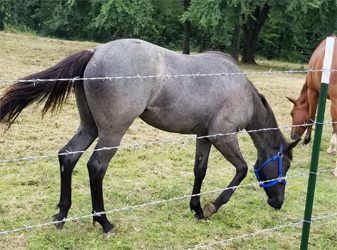 Thank you to the MA Quarter Horses!!! We were so impressed with walking into the pasture with all the herd gathered around us. All of them were so calm and friendly. You guys do an awesome job on your breeding. Just as you state on your website. Hancock's Easy Blue MA "aka" Blue Jean is so level headed and pretty much nothing seems to really bother her. I love my little Blue Jean. It was a pleasure to meet and talk to you both. I will continue sending pics as she develops. Thank you so much for such an awesome filly!!
Paula S.
from Oklahoma
---
November 7, 2018


7 days after purchasing an untouched 2 year old, Plenty Smokie MA,
we received this text and pictures from the buyer...

"Hey! I forgot to text yesterday. Me and a family friend have been working with her every day and I saddled yesterday and got on. She did great! No problem at all other than just not knowing what to do yet. Everyone loves her!"

Then another week goes by and we received this text today along with pictures...

"Another update for Dillion (still deciding on a name. Dillion has stuck for now.)
She's riding so well! Still no problems with her! Sorry to bother about her, I'm just super proud of her :)"


Brooke F. from Kentucky
---
October 26, 2018

Buyer purchased this filly as a yearling and she was untouched

Just thought I'd send you an updated video of "Ms Salty". We're calling her Drama Mama... She's an awesome horse. We love her. This is her fifth ride.

My husband actually said today she's the best baby we have. He can't wait to start roping on her next year. Once we get this one up an running we'll probably get another one. My husband wants to sell our other two babies he bought and only get babies from ya'll now. And that says a lot coming from him, he's picky. But we love how her mind works and how she is always willing to try. She doesn't flip out, she's confident, and takes her time to react. It's very nice. The kid riding her is only 15 and he loves how she moves and how easy it is to get her to learn something new. My husband says he can't wait to start her on roping, he thinks she'll be fantastic. She is already very "cowy" and loves pushing them around in the pen. Plus she moves like a dream! I'll definitely stay in touch so you can see her progress, and in the next year or so, we'll be look to getting another one. Just need to get rid of the two babies we have first.

Thanks again for breeding awesome horses!
Deanna S. from Florida



---

April 1, 2018
Just saying hello and wanted to tell you guys how much fun we are having with the babies!
So fun and FULL of personality! Can't say enough good things about their minds and personalities.
The yearlings are already gentled - loving the curry comb and the baby fuzz is falling off! So fun to watch them grow.
The little filly is a firecracker! She loves to run and play - the colt is sweet as can be and super smart he tries to unchain the gates lol
And Salty is always hooves in the water tank - she's beautiful and she knows it lol. She's got the brains and the beauty for sure! I will attach some recent photos......
The horses bring us so much peace and pleasure - they are just amazing creatures!! And once again thanks to you and your family for these beautiful horses! We will keep in touch!
Jen - Texas
---
November 17, 2017

"Last year about this time my son and I came down and bought a yearling blue roan colt. At the end of august, for the last 32 years, Clinton, Arkansas hosts the national chuckwagon races. Because of circumstances, I only had 10 rides on "One", but I decided to take him anyway. Over the course of a week there are between 4,500 - 6,000 horses and mules and between 20,000 and 30,000 people. He did an absolute great job!! Had numerous offers to sell him when they found out he was only 2 years old and with only 10 rides! So proud of him!!! A lady stopped and knew your brand from your website, she had followed for a couple of years and was very impressed, wondered if all was true she had read. NOW SHE KNOWS!!! Thank you for your help on this horse. I tell everyone I can about your horses!"

Mike N. from Arkansas
---
August 2017 - yearling colt, MR BLU HANCOCK MA # 5764564 (sire: Plenty Blue Day MA dam: Black Valentine MA)

We absolutely love our colt we have a two year old and "Blue Valentine", his size and his color are AMAZING. Thank you so much! He is such a sweetheart and he is super gentle. Everyone loves his color and we've had a couple of people ask about where we got him so you might have a couple of them going down there.

Maria S. of Texas
---
February 27, 2017

Dear Delanie & Mike,

Finally was able to come up with an update for you on my gorgeous girl, Hancocks Velvet MA, now known as Arya. Arya has by far exceeded all of my dreams. Super smooth, long, athletic, and strong are all the moves this little girl makes. Something you would never expect from such a big and powerful filly. Not to mention the sweetness and softness she exudes will make you fall in love with her at first sight.

Arya has shown total willingness and proves the sweet amazing minds you guys breed for. My bond with her is strong already in the 6 months I've had her home and the 100 hours under saddle we have worked together on since November 1, 2016. I really can't wait to start her on some cows and really see her full potential. Arya is my first MA colt but definitely not my last!

Thank you again for making this girl from New York City realize her dream of owning this filly!

Love,
Miriam and Arya
From Arizona
---
Feb 6, 2017
Montoya Sierra 2013 filly

Dear Mike and Delanie,

I wanted to give you an update on Montoya Sierra's 2013 chestnut filly. She's without a doubt the neatest using horse I've ever had the opportunity to work with and I'm proud to call her mine. She's big boned, great minded, super athletic, and easy on the eyes. She's got a great country covering long trot and will really watch a cow. The moves she makes on a cow are as big and powerful as she is! She is the second MA colt I have owned and just like the first Smokin Redbone baby she is the reason I will be back to purchase another foal in the future. I just wanted to take the time to say thank you again, and if Laramie is still around tell her hello! She helped us at the ranch the day we purchased our filly, and we are extremely pleased we picked Montoya Sierra's foal!

Sincerely,
Jessica F.
Oklahoma


---
!
Oct 23, 2016

Hey Mike and Delanie, We wanted to send y'all a picture of one of the fillies we bought from y'all two years ago. This is Roan Bones/Miss Bee Bee's 2012 filly, ( we call her Sage). Both fillies are by far the best horses we have ever started.

~Josh, Sandy, and Cesley B. from SC
---
May 31, 2016

Good morning Mike and Delanie,

We are so happy with your boy! This video is ride number five and he was a perfect gentleman in a new environment, indoors for the first time, trailering for the first time since he has arrived at our house.

I will attempt his first Trailride on Monday, which is my next day off. I have enough horses in training to keep me busy up to 10 hours a day right now and honestly only get to him two to three times a week. It confirms the great mind you folks are producing!!!

Soon I will focus on Wiley Badger MA more, although same sire as Smokin Flint MA, he is a completely different horse. Already the same height as his half-brother at only two years old. Gorgeous conformation. I will start him lightly this summer, then let him grow through the winter and restart him next spring. Originally we thought we might sell one of the three Colts after they were started, but that won't happen :-) Frosted Top Moon MA has embedded himself pretty solidly into my heart! He demands the most attention from me and trots next to my truck down the driveway when I get home in the evening, initiating everyone else to come down to the house as well.

I have been in the horse business for over 30 years and have started hundreds of Youngsters. I wanted to let you know that all three boys are not only Beautiful in their conformation but have some of the best minds I have worked with throughout my career! My husband and I agree that all future horses we will only be purchasing from you out of your exceptional herd!

We are already peeking at this year's crop :-)
Thank You!

Have a wonderful weekend,
Bjarne C. ~ of Colorado



---
"HE'S AMAZING US!!!
2015 Blue Roan Stallion - Blu Dividend MA
(DOB - 05/10/2015)
March 20, 2016 -
Blu's doing really well. Everything is new to him so he's unsure and takes it slow but he has yet to really "spook" or overreact to something. He's been very level headed and that's been a huge blessing to be able to keep moving forward with him. He hasn't come across anything that he doesn't have figured out within a couple minutes. He's learning to trust us too which is great! We can pick up all four feet now, gave him a little trimming with the file, blanketed him, he stalls like a pro (better then mine even), and LOVES his grain. He's learning how to walk and trot on a lunge line also. Right now he's not ceased to amazing us. Soon I'll start teaching him western pleasure as I'll be showing him in halter classes this summer along with my 5 year old Galahad this year with both the boys. It'll still be exciting to see how Blu does with it.

- Becca from Michigan
---
March 2016

Hello! I just wanted to say thank you to you guys again! I'm so in love with my filly! She's such a dream! I love the breeding that made this amazing horse! I would of never dreamed she would be so easy. I put the first rides on her last week and she did everything I asked with ease except into the canter, a little crow hop, but she couldn't make it perfectly easy for me!

Absolutely! I'm sure I'll be doing business with you guys again in the future.

Thank you guys so much!
Love Sierra and Sweet Valentine (Willow) - from Arizona
---
August 2, 2015

Hi Mike & Delanie just wanted to share a pic of our stud, "Hank" Hancock O Redbone MA, with y'all. He is now a 3 yr old, I never thought he would be as big as he is, he has really started to spread and fill out the past 6 months. Casey uses him almost everyday and can do anything from sorting to roping and doctoring calves in the pasture.

- Casey and Angela M. of Jewett, Texas
---
April 20th, 2015

Val arrived bright and early this morning. I'm already amazed with her! She is a very easy mare to handle just full of herself!

Well she got a "new to her blanket" due to all the rain we are getting. Needless to say I've never had a new horse take it so easily. Plus she befriended my 2yr old paint filly.
Thanks so much!!!

~ Cheyenne K. of Wisconsin


2012 Blue Roan Filly - Blue Valentina MA
---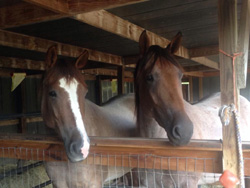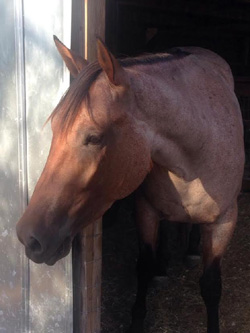 I just wanted to write you and let you know what awesome horses both of the fillies I bought from you turned out to be! They are both 4 year olds this spring and I love having them! I bought them as weanlings in your auction and purchased them online, here they are 4 years later, and I love them both!!!! They are SO awesome, they are gorgeous foundation mares, exactly what I was looking for, and I couldn't be happier. They both have TONS of personality and they've come so far and learned so much over these 4 years it's really awesome. I've double registered both as AQHA & foundation. "Falina" is the appendix bay roan mare, I wouldn't trade her for the world. She is super smart, unbelievably curious about everything, outgoing and friendly, and the bravest little horse I think I've ever met. 'Mango' is the red roan, the one with the beautiful blaze face, and out of a mare you told me was the sweetest mare you had on the property. Well, I believe it, because she is the kindest, gentlest, sweetest horse I've ever owned. She loves people and just wants to do whatever you ask her. Not a mean bone in that horses body! These two have completely opposite personalities but they are both unique and special in their own way, and I just love 'em!!! I often pull up from work and see them standing there or running around in the pasture, and they are sooo darn gorgeous it takes my breath away. No kidding, they are that awesome. They are both great athletes too. Simply awesome equines!!!! Thank you for breeding and selling them to me! I LOVE my girls and they are exactly what I wanted. I waited and waited to find my perfect foundation Hancock horses and these two are it for me (and they know it,!). I will try to send you a cute video clip from this winter, have to figure out where I stored it, it was muddy that day but it gives you an idea of how much personality and athleticism they have. Really awesome horses. I'm very proud of them....

~ Kathy from Texas
---

2012 Dun Roan filly ~Redbones Diva MA
"We love our MA baby so much!"
~ Mark and Callie from North Carolina"
---
Just wanted yall to see how he has grown over the past year. He is doing great I think he gets better everyday.

~Angela Shearer
---
"I have dealt with Mike and Delanie for years and have always been pleased with our horses we got from them!"
~Joey Kitchens
---
"MA Quarter Horses produces outstanding horses with great bloodlines, awesome minds and stunning color. Our bay roan filly from a Mike & Delanie was one of the nicest we've ever owned. Going back for more!"
~C&L Livestock (Craig and Laurie Claver)
---
"I definitely recommend MA Quarter horses, best crop of stud colts you could ask for even better set of filly's, & the 2013 set looks even better. We couldn't be happier with the stud colt we got and we will be back for another soon. Thank you Mike and Delanie you can definitely tell y'all put your heart in to having the best."
~ Angela Shearer
---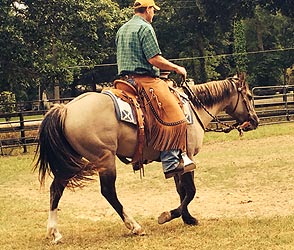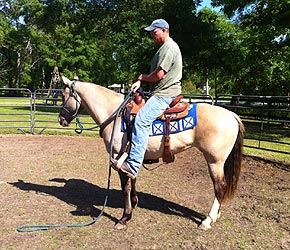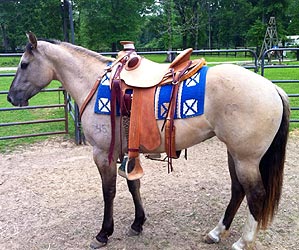 "Thought I would share this photo of Sassy Hancock MA. She had her first ride today. Absolutely did a great job. She is so quiet. I've got a feeling she is gonna be a good one. Thanks again and I will keep you updated on her progress."
~Harold Stapleton, Dayton, Texas.
---
"Here's a picture of our yearling filly, Leos Thistle MA (aka: Sis), that we purchased from MA Quarter Horses back in November. She is coming along great! Sis has a very quiet, docile nature and a great mind. She had her first farrier appointment last week and stood like she'd been doing it her whole life, then loaded in the trailer very quietly to be transported to our new home and she has been great with tying and leading her around the new facility. She is really going to make a nice horse! Thank you MA Quarter Horses for breeding such nice conformation, quiet and willing horses!"

— Craig and Laurie Claver, California.
---
"Our yearling filly we bought as a weanling from MA Quarter Horses! She's big boned. heavy muscled. great conformation, and an awesome mind. This was her first time to be saddled, she never offered to buck!! I highly recommend this ranch if you're looking for your next working horse!!
Thank y'all!"

~Ashley Campbell
---
"I acquired one of Smokin Redbone's geldings and I LOVE him!! He is a 2007 gelding named Redbones Big Shot MA. He is so handsome and a BIG boy. 15.3 hands, 1300 pounds, big strong bones. I love his big size, but mostly I love his personality. He is very confident, brave (even as a 7 year old!) and very calm but with plenty of go! He's the best horse I've had. I'm not sure if he was gelded "late," but he has big jowls and a leading temperament, but very good with other horses."

Kayla Elson